---
(ET's) Conversation Group - Introduction
10. 3. 2012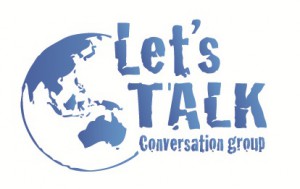 People are lazy to read, that is common knowledge. That's why I am going to mention the most important things first:
Who can come to these meetings? ANYBODY who wants to improve their English. No particular level of English is required. If you can read this, you are good enough to attend.

How much do I pay? NOTHING for the conversation. You'll pay just for your food and drinks.
Do I have to register? NO, you can just come over but I would appreciate it if you could join Facebook group and sign up for every forthcoming meeting (due to the table-booking).
What do I need to bring? NOTHING in particular. But it is recommended that you take with you determination to speak, good spirit and advisedly some money to have some beer, wine or whatever you like. You can also bring your friends along.
---
O.k, now when the most important part has been mentioned, we can go through a little bit of history of (ET's) Conversation Group.
The conception of the idea was born in my head about a year ago (mid 2011). I tried to find a few people interested in practicing conversation to improve their speaking skills. I wasn't successful at first and then I had to prepare for CAE so I didn't have time for searching. After passing the exam I revived the idea and asked several people in my regular English lessons. Some of them were thrilled and jumped at the offer, so with encouragement of my teacher Glenn Weidner I was able to organize the first meeting at the beginning of February 2012. The first meeting was attended by three people and the number has been continuously rising since then.
THE AIM of the (ET's) Conversation Group: All of the people taking part in (ET's) Conversation Group are determinded to improve their English skills. The meetings are focused on natural conversation. There's no specific topic preparred for each meeting, even though it might be useful in the future. So far, we have talked about ourselves, about our lives, experiences etc. We just let the conversation flow. If anyone of us doesn't know how to express specific word or phrase we help each other to find the best way to explain it.
REQUAIRED LEVEL OF ENGLISH at the (ET's) Conversation Group: Basically there is no such requirement. Our group consists of people of different levels of English, who try to help one another to improve their skills. All you need is the determination to speak. If you feel shy or simply think your level is not good enough to join the conversation you can just listen to other participants at the beginning and join in as soon as you feel more confident. There is no need to feel bad about your shaky English. We all make mistakes and we all learn from making them. From time to time native speakers come to check up on us and I guarantee you, it's a great encouragement when you find out that you are able to chat with natives.
HOW MUCH iS THE ENTRANCE FEE or fee for participating in the (ET's) Conversation Group? The participating in this meetings is completely free of charge, it's 100% voluntary, non-obligatory. You don't need to register, you don't need to sign-up for every meeting, you don't need to cancel you presence, you can stay whatever long you want. Just come whenever you feel like coming, when it's suitable for you. You probably won't miss anything if you leave one or more meetings. You don't pay for anything except for what you have eaten or drunk. The lessons take part once a week, on Thursdays at 7 p.m. at different places (usually pubs) in Třebíč. The exact location of the next meeting you can find on this site.
On the main page there is an invitation article before every meeting. You can find there information when and whrere the next meeting takes place and there is usually a set of useful words or phrases, which might come in handy during the next conversation. Those might be either new vocabulary, phrases or clearification of uncertainties or mistakes made during previous meetings. For that reason, it might be beneficial for you to have a look at them once in a while.
MORE INFO - very comfortable way to stay in touch with (ET's) Conversation Group is by Facebook. We run Facebook Group - English in Třebíč - Angličtina v Třebíči. If you want to join in ask for approval. How to ask for approval?


Komentáře
Přehled komentářů